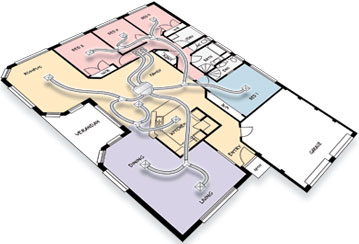 A Ducted System provides air conditioned comfort to new and existing homes. The indoor unit is usually located in the ceiling or under the floor with flexible ductwork distributing conditioned air through vents located throughout the house, where as, the compressor is installed outside the home.
Ducted systems can be designed to operate in two or more zones, which can be heated or cooled at different times.
This means you can operate your air conditioning system in the living area during the day and in the bedrooms at night saving you money on energy costs.
Major Benefits:
Easy Control: Central temperature and zone control with set and forget timers
Zones: Up to 8 Separate air conditioned zones give flecibitility and economy.
Aesthetics: With only grills mounted in ceiling or floor visible, ducted systems do not intrude into the overall look of your rooms like a wall hung unit.
Noise: With all the noise producing equipment in the ceiling, under the floor or outside, ducted air conditioning is the quietest  of all air conditioning options.
Value: in most houses it is cheaper to install ducted air conditioning than to install wall hung split systems in every room. Adding ducted air conditioning also adds to the overall sale value of your home.